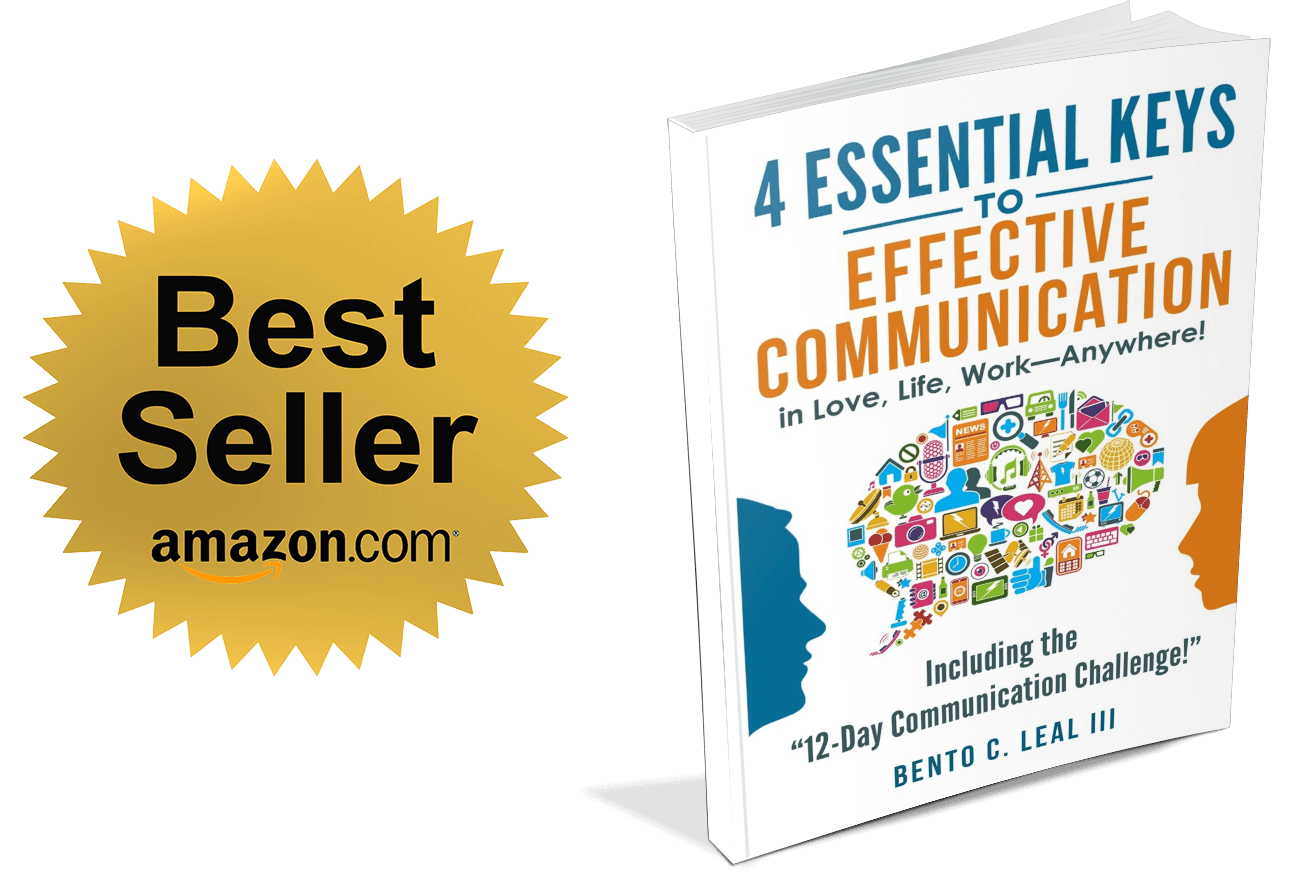 Read This How-To Guide for Putting Into Practice the Empathic Listening, Speaking, and Dialogue Skills That Can Take Your Most Important Relationships to Higher Levels of Success and Satisfaction!
Are You a Good Communicator?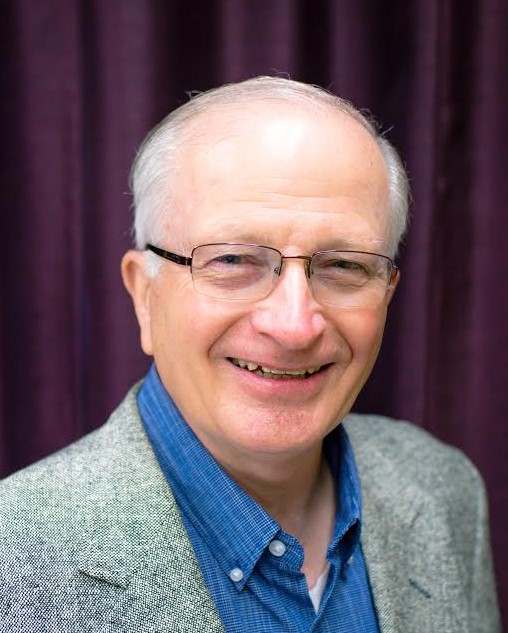 Bento C. Leal, III
Author and Teacher
Do you think that your communication skills could be greatly improved?
Do you sometimes listen to the other person but miss what they're actually saying because you're thinking about what you're going to say next?
Do you sometimes get upset with someone at home or at work and blurt out some angry, hurtful comments only to regret it later, but the damage is already done?
If you answered "yes" to any of these questions, then this book is for you.
This is an excellent step-by-step 'How-To Guide' for practicing the key skills that will help you achieve relationship success with the important people in your life at home, work, anywhere.
In This Book, You Will Learn:
Empathic awareness and empathic listening skills
Common listening blocks to effective communication
Empathic dialogue skills to achieve mutual understanding
How to overcome communication barriers
How to nurture your relationships on a consistent basis
The power of expressed appreciation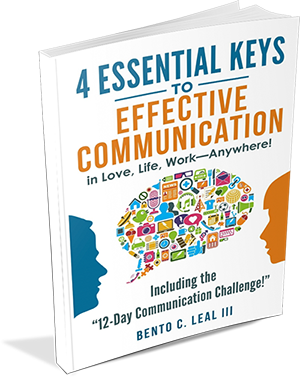 "What's the secret of being seen as a great spouse, parent or friend? A great conversationalist? It's listening with empathy, really listening…They think more clearly and are much more likely to want to listen to you…This little gem of a book reveals the secret of developing this priceless skill. Simple, practical, and effective. Read it, do it, and watch how you can win anyone's heart." John R. Williams
"This is an excellent guide on how to practice empathy in relationships…I think if everyone read this book and practiced the skills we would have a better world. This should be required reading for anyone getting married, since these skills are so essential for a successful marriage. If you want to improve your marriage, or all your relationships for that matter, this is the book to get!" Debbie Preece
"This is a wonderful book, and I highly recommend it. The communication skills Bento Leal teaches have helped me listen and speak with greater empathy to both my loved ones and my clients, and as a result have continued to strengthen my relationships in my life and work. Give yourself the unique gift of what Bento's book can also do for you!" Don Sardella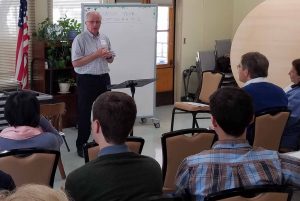 Teaching is a special joy for me. For more than a decade, I have taught communication and relationship skills to thousands of couples and individuals in various venues, including faith-based organizations, family resource centers, county jails, and federal prison. I've also developed a course called Enrich Your Relationships. TM
Over the years, I discovered that — regardless of race, nationality, religion, economic status, or any other distinguishing characteristic — everyone wants to have good relationships with the important people in their lives. For that, effective communication skills are essential.
In this book, I've distilled what I have learned, taught, and practiced into an easy-to-understand and easy-to-implement format. In it, you'll explore the core essentials — the basic communication skills everyone needs to build healthy relationships.
I get excited when I see people make breakthroughs in their relationships — the big 'aha' moments right there in the room when they realize what real listening does for them. Many come back years later and tell me their lives were transformed for the better. Nothing makes me happier. It fuels my passion and gives me energy to keep doing this important work.
4 Essential Keys to Effective Communication in Love, Life, Work—Anywhere! will help you make great strides in your communication skills and bring your relationships to higher levels of success and satisfaction.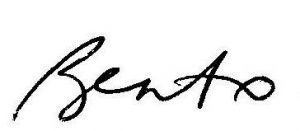 Discussion Questions for Book Club or Small Group
The book is excellent for reading and studying together in a Book Club or Small Group.
In addition to discussing the questions that already exist after many of the chapters, I suggest after every chapter, particularly after each skill step section, that you pause and ask the group:
• "What are your thoughts about what we just read?"
• "How does it relate to you?"
• "Do you have a story or personal experience about that?"
These questions should open the door for a lot of thoughtful comments and discussion.
In this way, your group will learn and grow together.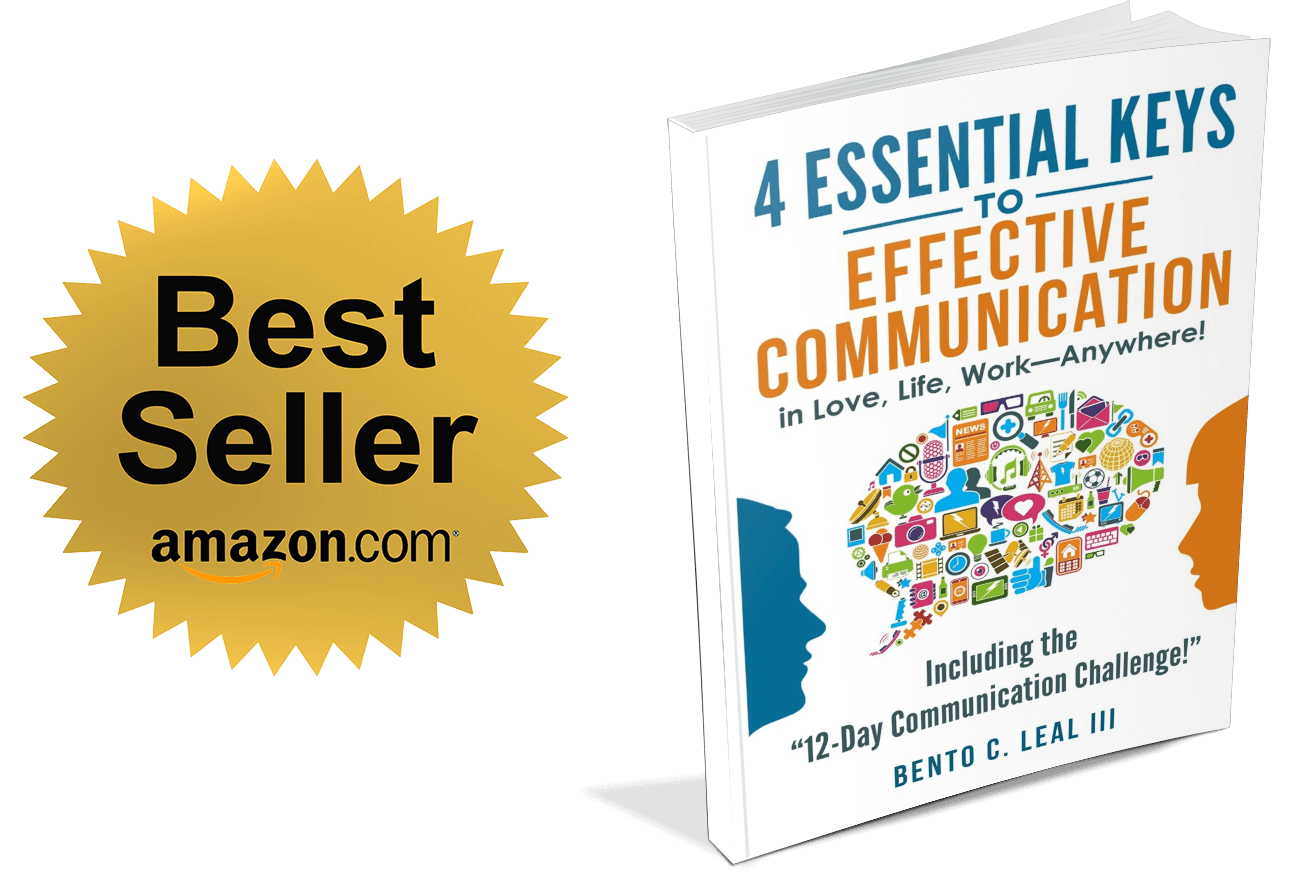 Please let me know how it goes. I'd love to hear from you. You can email me directly at bento@bentoleal.com.
You'll also get the 12-Day Communication Challenge! This Action Guide at the end of the book will help you practice a particular skill step each day thus growing in confidence and ability as you do.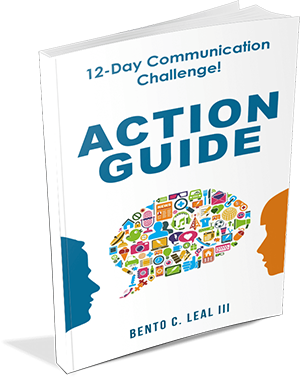 If you want to improve your communication skills right away, you NEED this book.
Start growing your skills to invigorate all your relationships!